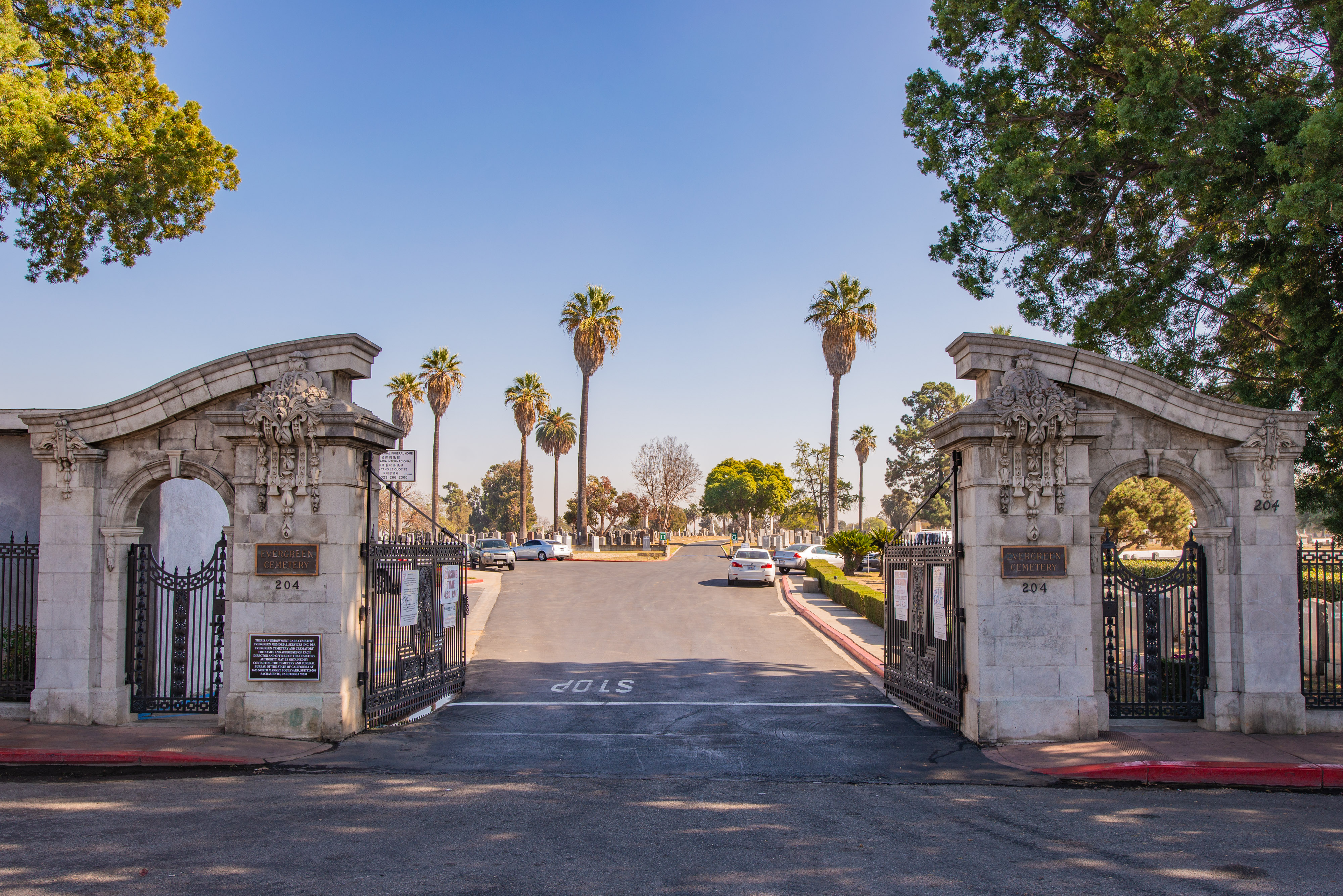 A Brief History Of Evergreen Cemetery
&nbspEvergreen Cemetery is the oldest existing cemetery in Los Angeles. It was established on August 12, 1877 by a private development company after proving their capability of engaging in the burial business to the City Council. Initially, the city questioned if a private company had the right to engage in this public practice, but the controversy had settled and the City Council agreed to allow the company to create a cemetery.
&nbspAfter over 140 years of service, Evergreen Cemetery still has available interments and the foresight to continue to develop new grounds. We are proud to say that a cemetery with over a century of Los Angeles history still continues to serve Angelians in a skyline that is forever changing!
&nbspEvergreen Cemetery hosts a diverse group of people. Those who rest here include people from pioneering families such as the Hollenbecks, Workmans, Lankershims, and Van Nuyses, to notable individuals as Eddie "Rochester" Anderson (Jack Benny Program), Matthew "Stymie" Beard, Jr. (Little Rascals), Los Angeles Councilman Gilbert W. Lindsay, to families from multiple ethnic backgrounds.
&nbspOne of the first ethnic groups to have burials within our Cemetery were early Russian-Armenians who settled in Los Angeles just after World War I. They introduced their tradition of placing pictures on their grave markers, which is just one of the many different ways culture contributes to our society and brings us all closer together.
&nbspAnother section of Evergreen Cemetery serves as the final resting place for many Nisei, or second generation Japanese Americans, who died during World War II, the Korean Conflict, and the Vietnam War. Among these valiant soldiers lies Sadao Munemori, the first Japanese American soldier to receive the Congressional Medal of Honor.
&nbspWe also have an area with a set of graves for interred veterans of the Civil War. Sometimes just a name, date, rank, company, division, or state is all that provides a simple tribute to those who participated in the making of this country.
&nbspIn 1922, the Circus and Carnival troupe dedicated a section for their members and spouses. Here, you will find members of the Pacific Coast Showmen's Association and the Women's Auxiliary.
&nbspThis wonderful array of people has helped raise the great city of Los Angeles, and many of their monuments are deemed historical. In addition, the city of Los Angeles has designated the Chinese shrine built on our grounds as a Historic-Cultural Monument. This shrine, built in 1888, was used to burn offerings to ensure that the decedent had these items in the next world, and this custom is still practiced by many families as part of the funeral ritual.
&nbspEvergreen Cemetery also hosts an annual event during Memorial Day weekend. This program honors our fallen service members. Additionally, Buddhist ministers come to honor the memory of the unknown Japanese pioneers and settlers in the Los Angeles area. It is our privilege to host this event and we extend an invitation to all to attend.
&nbspThese are just some of the cultural, historical, and traditional highlights of our cemetery. We sincerely hope this has been a small inspiration for our patrons and guests.